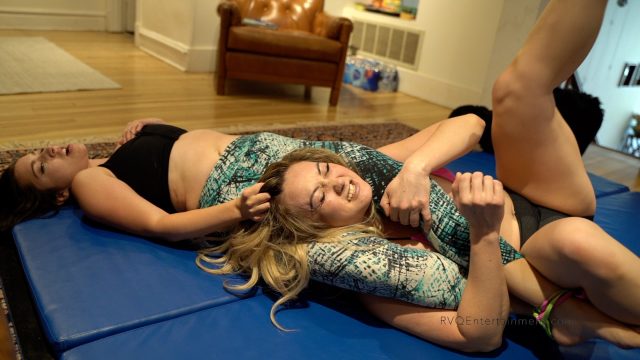 Synopsis: Paisley and Mandi are hanging out at their apartment when Paisley comes across this rope challenge online. She tells Mandi how it works since Mandi has never heard of it. Basically you tie up your friends and time them to see who gets out first. Mandi wants to try it and says she will get out so easily! Paisley saids okay, but Mandi goes first! Mandi gets tied up with a super stringy bikini. Paisley goes to set the alarm but ends
up leaving Mandi alone in there instead. Paisley is so sure that Mandi will not get out of her ties! Close to 12 minutes later Paisley gets back from her short visit with the neighbor (a super cute girl Paisley is trying to convince to wrestle with RVQ). She.
Walks in and is. totally surprised by Mandi coming from behind the door. Mandi ties Paisley up and she gives it to her! Why on earth would Paisley be a bitch and think that it would be okay to leave Mandi tied up?! Mandi takes out all of her anger on the tied
up Paisley who cant fight back! Paisley eventually gets loose but she is so worn out from struggling in rope that she has a hard time fighting back. See who ends up being a sad loser in this clip against Paisley and Midwest Mandi!.
Video Information: Format:
MP4


Resolution:

1920×1080 PX

Length:

16 Minutes


Price:

$15.99 USD
Gallery Preview